Inserting Links
Media in your Media Manager Library can be linked to in the rich text fields of your ProcessWire pages. The page does not need to have a Media Manager inputfield for this to work.
Please note that this only works with CKEditor. 
Linking
The process of inserting a link is identical to how you normally create links in ProcessWire text fields.
To insert a link to a media Library content, first, select the text in your CKEditor text field that you want to create a link for. You can even select an image instead of text.
Secondly, click on the link icon in the CKEditor toolbar. This will open a modal.

Third, have a look at the bottom of the modal that just opened. You will see a section with the heading select media from Media Manager and a link to your Media Manager Library. Click on the link.

This will open the media Library. You can search and filter for media as usual, even upload items to the Library!

Fourth, hover your mouse over the thumb of the media that you wish to link to and click on the check icon to select it. If you cannot see the media you want, you can either use the pagination navigation or search filter to locate it.

For image media, you will see a copy (versions) icon as well. You can click on that if you wish to link to an images versions instead. This will open (still in the modal) the image media versions window. Select the image variant you want.

Once done with your selection, click on the button insert link at the bottom of the modal window. The modal will close and your link be created. To cancel the insert link operation, with the modal still open, click on the cancel button at the bottom.
To verify that the link was created correctly, hover your mouse of the link you have just created. The tooltip will show the title of the media you have linked to. If you look at the source, it will show the actual file linked to.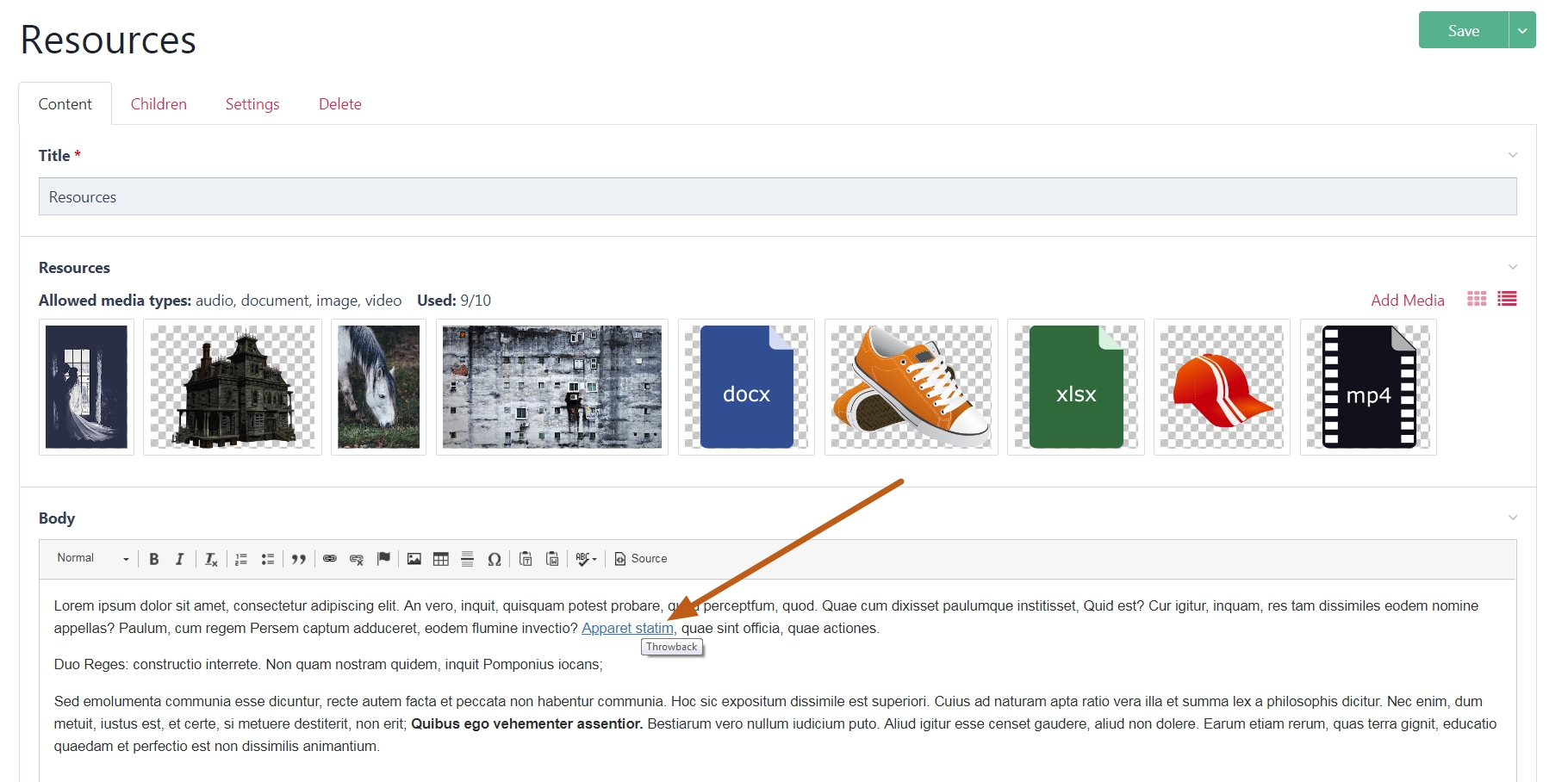 Please note that from the image variants modal, you can click on the link back to all media at the top-left of the modal to return to the media Library (still in the modal).
Editing Link
To edit the link you created, either double click on it or right click and select edit link. Repeat the process of linking outlined above. For image media, it is better to right click and select edit link This is because double clicking will open the insert image modal instead.

Unlinking
To remove a link, right click on it and select unlink. Alternatively, in the CKEditor toolbar, click on the unlink icon.

Don't forget to save the page when finished.